Make Your Vape Experience ICONic

Begin Your Vaping Journey The Right Way!
The ICON Vape Device is a stylish, easy to use pod kit that is both reliable and effective, making it a perfect for smokers looking to switch to vaping.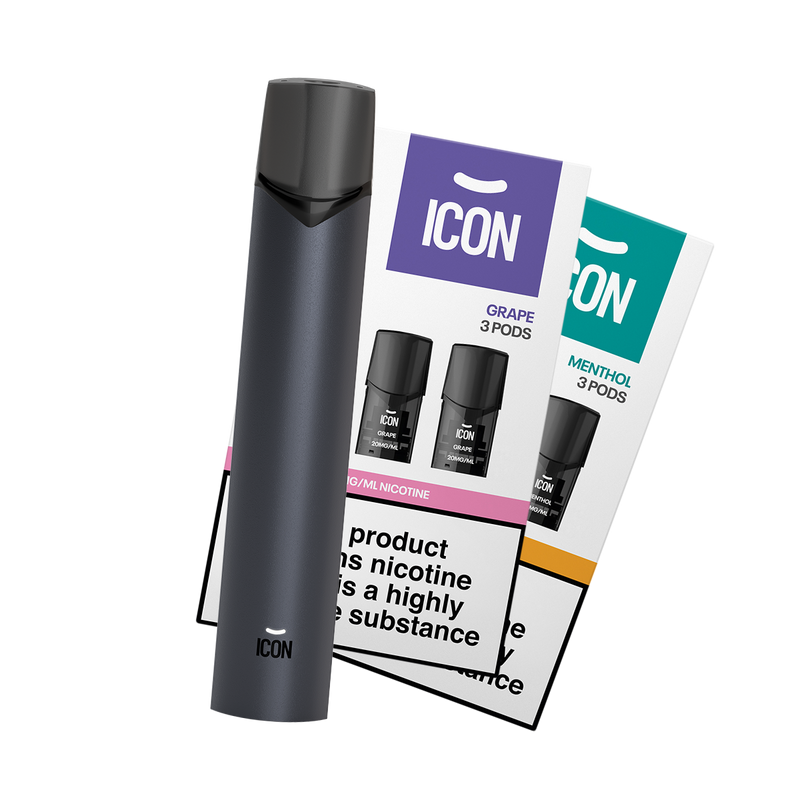 ICON's built-in battery can be fully charged in roughly 45 minutes.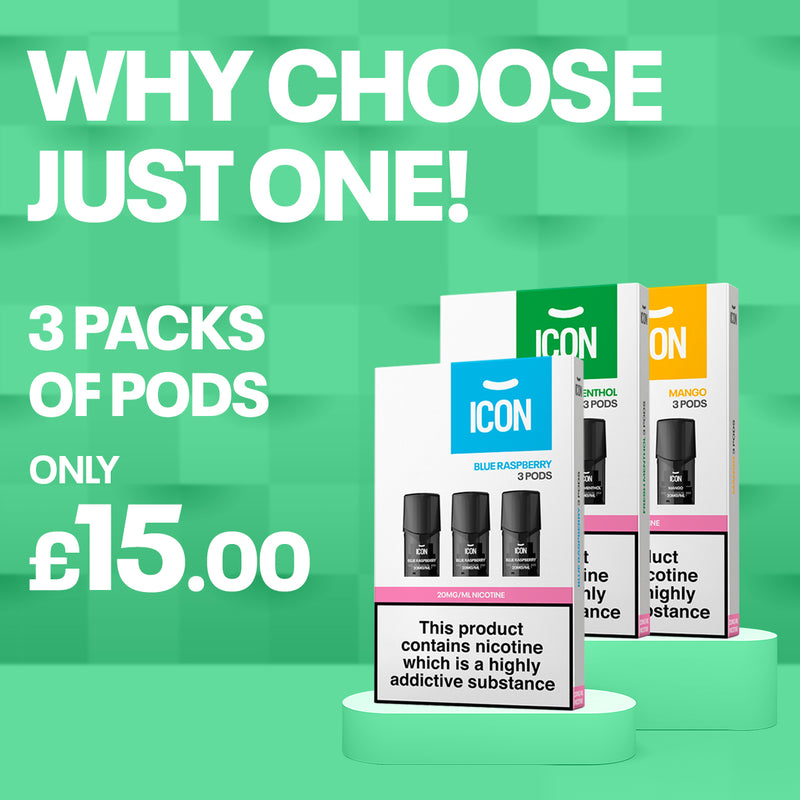 Designed with you in mind
The ICON Vape Device Kit has a lightweight design that fits effortlessly into your pockets, bags, and other accessories.
Getting started is easier than ever! Simply insert a ICON Pod, inhale, and enjoy everything the ICON has to offer.
UNPARALLELED FLAVOUR
The ICON is compatible with 1.5ml pre-filled e-liquid pods that securely attach to your kit. Each pod includes a coil, wicking, and e-liquid, making your vaping experience much more convenient. These pods include a nicotine salt formula that is specifically designed to satisfy your nicotine cravings quickly while leaving a wonderful aftertaste.
ICON PODS ARE AVAILABLE IN 14 FANTASTIC FLAVOURS!
What does the ICON Pod kit offer?
The ICON pre-filled replacement pods are sold in packs of 3 and can last up to 1200 puffs, doubling the amount of puffs provided by a single standard disposable.
Every week, an estimated 1.3 million disposable vapes are discarded, which can potentially be harmful to the environment. Switching to a vaping device, such as the ICON Pod Kit, which is suitable for both novice and experienced vapers, can significantly reduce waste.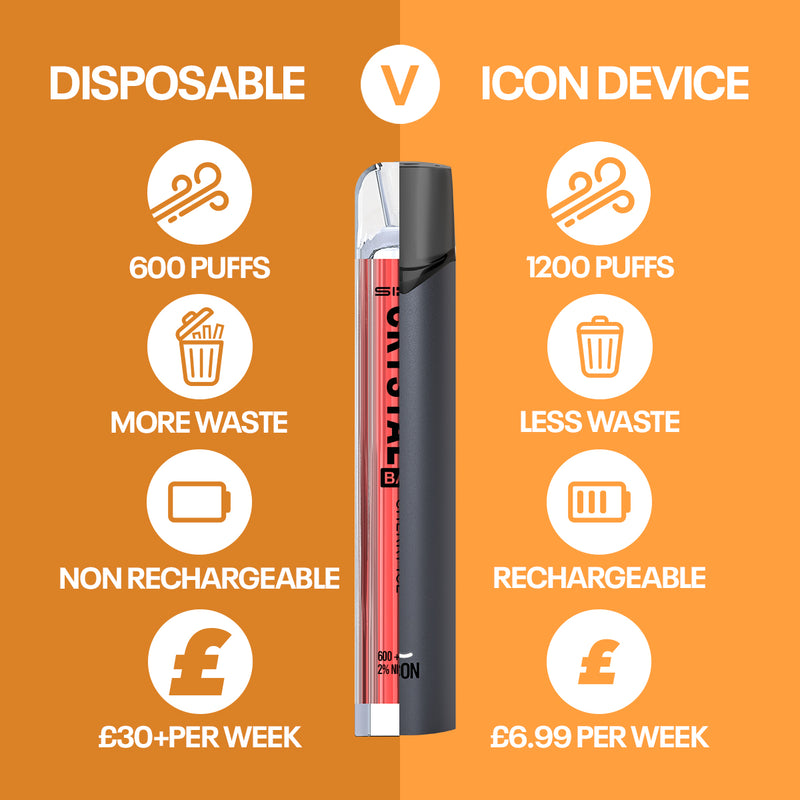 The ICON Vape Device features a built-in rechargeable 350mAh battery that provides up to a full day of vaping and may be used without limitation.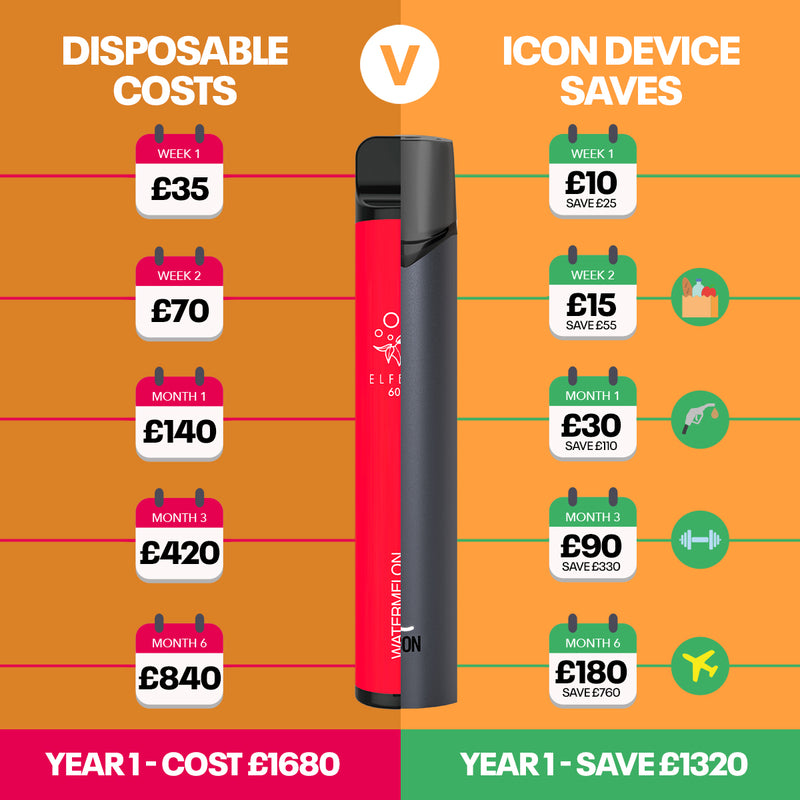 Save your buck
Though disposables appear to be inexpensive, having to replace them on a regular basis can quickly add up. A disposable can last up to 2 days before needing to be replaced.
The ICON device is currently on offer for only £1 with any pack of pods purchased.
In addition, any 3 packs of pods can also be purchased for only £15.
This is a staggering price drop, and you will essentially triple the goods received in the long term.