Top 7 Summer E-liquid Flavours To Try In 2021 - Don't Miss Out!
Aug 9, 2021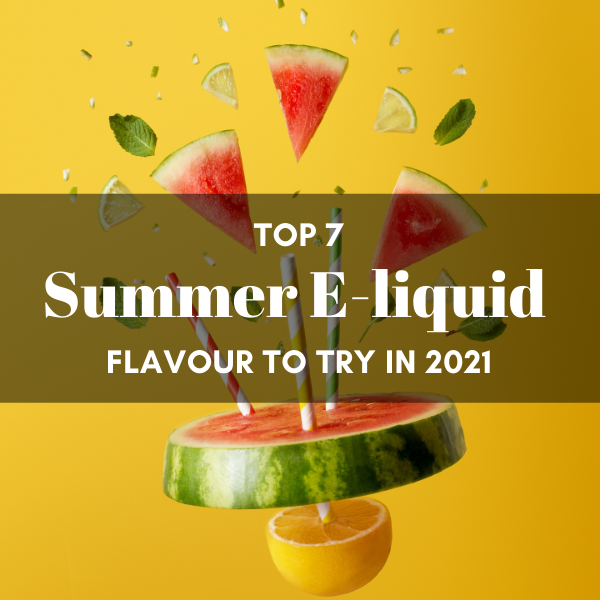 Summer vibes are now available to you as e-cigarette liquids. Enjoy sweet and tangy notes, perfectly blended together for a great summer vaping experience. This handy guide provides a selection of the best e-liquid flavours UK vapers have to choose from.
Summer E-liquid Flavours 2021
1. Tropical Tsunami By Vampire Vape
2. Rodeo Mango Short Fill
3. Wild Watermelon By Road Trip
4. ZAP! Juice Melonade Short Fill
6. American Melon Shortfill By Ossem Juice
7. Moreish Puff Apple & Mango Shortfill
This product is 10ml of amazing and perfectly balanced pineapple and mango flavours. This delicious, summer breeze e-liquid will awaken your tastebuds to a whole new tropical experience. It is available in 0, 3, 6, 12 and 18mg nicotine strength and works great on MTL kits as well as pod devices. Vampire Vape's e-liquids are manufactured in the UK to high quality standards.
This Rodeo product will give you an exotic experience with all the flavour of ripe mangoes. This is the perfect option for vapers who want sweet notes with a tangy aftertaste. This 100ml nicotine-free presentation comes in a 120ml bottle to allow you to accommodate your nicotine shots and is perfect for sub-ohm vapers and vapers that enjoy a nice cloud.
This fruity e-liquid is a whole new level of taste, starting with hints of crushed strawberries and followed by an explosion of wild watermelons. This 50 ml short fill e-liquid is nicotine-free but has enough space in the bottle to add a 10 ml nicotine shot. Road Trip are the creators of some of the best fruit e-liquids UK vapers can buy.
This ZAP! short fill features sweet tones that combine the flavours of lemonade and honeydew melons. It is the perfect choice for vapers looking for a fruity e-liquid this summer. Manufactured in the UK, ZAP! Juice Melonade Short Fill is nicotine-free and comes with a free 18ml salt nicotine shot.
This 50ml, nicotine-free e-liquid offers the sweet and tangy flavours of ripe watermelons and is perfect for vapers who enjoy a fresh taste. It's a go-to choice for many starter vapers who like simple yet delicious flavours for an excellent vaping experience.
This e-liquid comes from South Florida and blends iconic flavours to offer a brilliant vaping experience. It's specially designed for use with advanced vape kits and drippers. Offering a blend ratio of 80/20 VG/PG, this deliciously flavoured liquid is great for those moments in which your taste buds need to be revitalised. Element is an ISO-9001:2008 certified company that sources its nicotine from the best suppliers in the United States.
This amazing liquid offers a sweet apple flavour blended with the tanginess of ripe mangoes. Add your own nicotine shot to this UK manufactured, nicotine-free e-liquid for an additional boost. Perfect for vapers looking for vibrant summer flavours.
If you are looking for a fruit e-liquid for your, Vape shop online now. We stock a range of e-liquids, vape pod kits and starter kits, whether you are an advanced vaper or are just starting out.