The 5 Best Menthol Cigarette Alternatives in 2021
Apr 20, 2021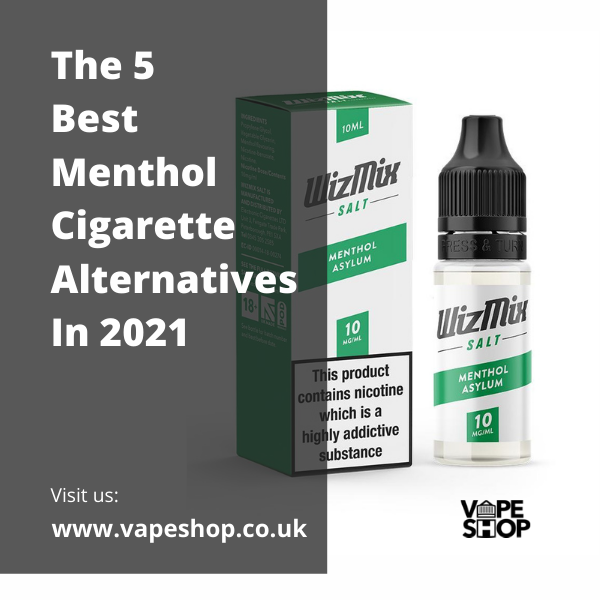 With a menthol ban introduced in some countries, many people are now seeking menthol cigarette alternatives. Among people who smoke, up to 30% use menthol cigarettes. So menthol e-liquid can prove to be a great replacement for anyone missing their menthol cigarettes.
For anyone who wants to vape menthol, the wide selection can sometimes be confusing when you're looking for the best choice. So what are some of the best menthol e-juices and alternatives on the market?
Menthol Cigarette Alternatives in 2021
5. ICON Menthol Pods + ICON Device
The ICON menthol pods are delicious mint flavoured pods suitable for use with the ICON device. These pods contain 60/40 PG/VG nicotine salt e-liquids. With a compact, lightweight style, this device and its menthol pods are an affordable and enjoyable way to satisfy your menthol cravings.
4. Button Junkie Koala Drool Shortfill
Koala Drool is a tasty ice-cool 70/30 VG/PG menthol e-juice which can be used with devices such as the sleek and compact Vaptio Cosmo vape. A menthol e-juice is perfect for those who enjoy a side of sweetness with their cool minty menthol burst. This juice comes nicotine free but offers the ability to add your nicotine shot, meaning you can tailor your vaping experience to the style and strength that suits you.
3. WizMix Menthol Asylum
Wizmix Menthol Asylum e-liquid is a 50/50 VG/PG vape juice available in a variety of nicotine strengths ranging from 0mg up to 18mg per 10ml bottle. This menthol e-liquid is excellent when used with e-cigarettes such as the stylish and powerful Smoke Priv N-19 vape.
2. Ten Motives Menthol Rechargeable E-cig
Shaped like a cigarette, the 10 Motives Rechargeable e-cig in menthol flavour mimics the feel and motion of smoking and particularly suits those who are both trying to quit smoking yet missing puffing on their menthol cigarettes. You can use disposable cartridges with the rechargeable device. This healthier alternative to smoking menthol cigarettes will also put less of a strain on your bank balance.
1. ULTD Salts Menthol Blast Puff Bars
If you're looking for a convenient and disposable device, the ULTD Puff Bar is a cheap, cheerful little device that will provide you with your required nicotine hit through a tasty blast of cool icy menthol. With 20mg of nicotine per bar and offering up to 300 puffs for a bargain price, this device is also available in an XL version which is around the equivalent of smoking 25 cigarettes.
To switch over to menthol e-cigs, take a look at our vast and varied selection of menthol vape juice at Vape Shop today! 
Visit our collection here: Mint and Menthol flavoured e-liquid
Share This