The Best Vape Starter Kit For Beginners In 2021
Jun 14, 2021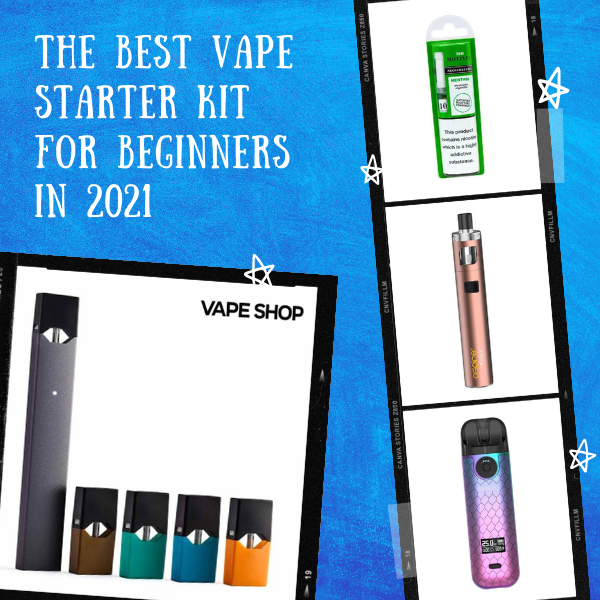 As people become more aware of the dangers involved in smoking cigarettes, vaping has become a viable alternative for many. Not only is vaping less harmful, but it can also be a way to wean yourself off smoking for good. When you also factor in the extra discretion vaping delivers and the cool flavours e-liquids come in, it is easy to see why many around the UK have turned to e-cigarettes.
If you are new to vaping, you might find the range of products and accessories a bit overwhelming. A good tip for beginners is to pick up a vape starter kit. This is perfect for new vapers and helps to get you going. But,
Which are the best starter kits to try out in 2021?
For vape newbies, this vape pen starter kit is perfect. Compact and stylish, it is very easy to use and has some great features. The adjustable wattage and airflow, for example, enable you to get the ideal vape every time. The SMOK Novo 4 is also lightweight, which makes it great for vaping while on the move. With a long-lasting 800mAh battery to give all-day enjoyment, the kit comes with everything you need to start vaping.
Another superb starter kit for new vapers in 2021 is the Aspire PockeX Vape Kit. The stylish, discreet design means you can vape anywhere without drawing undue attention to yourself. The innovative leak-proof design also means you will have no unexpected puddles of e-liquid in your jacket pocket! The top-fill tank makes the e-liquid refilling process mess-free, while the price point makes it superb value for money. Available in six cool colours, this is another kit with everything included to start vaping with.
If you need a vape pod starter kit for 2021 as an alternative to cigarettes, this is a smart choice. As well as the vape device, this kit comes with 4 JUUL pods in Mango Nectar, Glacier Mint, Golden Tobacco and Menthol flavours. There is also a USB dock for charging included. This is a great value starter kit and comes with a 2-year limited warranty for total peace of mind when buying.
4. Vaptio Solo 2 Mesh Starter Kit
There are certain things any new vaper wants from their kit. Cool design? Check. Adjustable power levels? Check. A hassle-free top-filling tank? Check. 3000mAh battery for many hours worth of vaping? Check. It really is true to say that this starter kit offers all this and more. In addition to the above, you also get a 10-second cut-off feature for extra safety and 2 Vaptio M1 0.2 Ohms Coils for total vaping pleasure. As an introduction to vaping, it does not get much better.
The only motive you will need to pick this starter kit in 2021 is the desire to have a good time and a penchant for using top-quality products! This is a really simple kit to use and probably one of the easiest to pick up and get going with. Discreet and stylish, it has great flavour production and has easy to change disposable cartridges. The cigarette-style design should also make any smokers new to vaping feel right at home.
Vape starter kit for beginners 2021 from Vape Shop
At Vape Shop, we have all the above vape starter kits in stock to purchase. We also carry a wide range of other products to buy, such as a CBD oil vape pen starter kit or a selection of e-liquids. Order online today or get in touch at hello@vapeshop.co.uk with any questions.
Share This