Vape Shop's Top 10 Best Selling E-liquids and Vape Device in 2021
Jun 21, 2021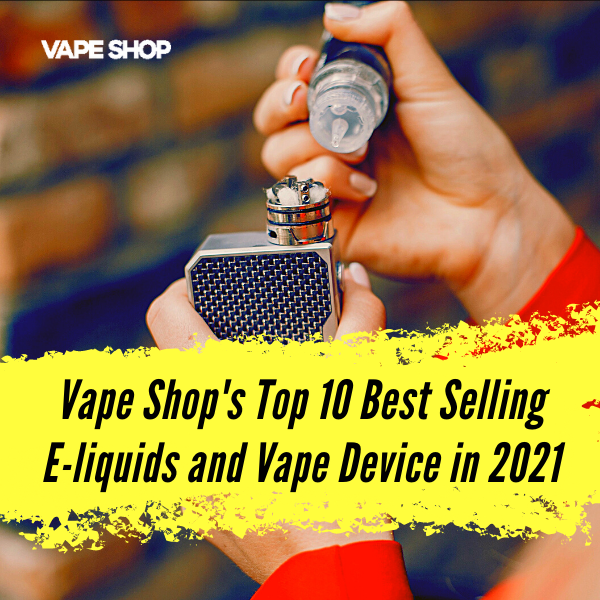 The days of smoking are slowly coming to an end and vaping is taking over the marketplace. Whether you're a complete novice, or you have been vaping for some time, it can be tricky to decide which vaping products are worth buying and which ones can be left on the shelf.
To help you, we have created a complete guide of our best selling products for 2021 so that you know exactly what needs to be added to your shopping list.
Top 10 Best Selling E-liquids and Vape Device in 2021
1. 10 Motives Regular Refills
If you are trying to kick your smoking habit but still can't quite part with the taste of tobacco, the 10 Motives Regular Refills are the product for you. This is a premium tobacco flavoured e-liquid that has an authentic flavour and has the equivalent vapour to 25 standard cigarettes. Ten Motives devices arrive with either 4 refills, 8 refills, 20 refills or 40 refills, and using the products is as simple as charge, connect and vape! 10 Motives is one of the best e-liquid brands on the market so you definitely won't be disappointed.
2. 10 Motives Menthol Refills
10 Motives Menthol Refills provides the best menthol e-liquid on the market for anyone who fancies a more refreshing e-cigarette liquid flavour. The 10 Motives menthol e-liquid extracts the refreshing flavours from natural mint leaves to create an energising vape flavour that will leave your mouth feeling fresh. Wizmix Spearminty is also a great option for those seeking a more refreshing vape juice flavour.
3. Slushy Hut Blue Slush Short Fill
Why not try a different take on a traditional vaping experience and opt for a slushie? The Slushy Hut Blue Slush Short Fill brings flavours of ice-cold raspberry that will certainly leave you wanting more.
4. Gator Vapes Raspberry Riot Short Fill
Another fun flavour to add to your list is the Gator Vapes Raspberry Riot Short Fill. This is the best e-liquid in terms of flavour and snappy sensations that you will not forget. Choosing to use a Gator Vape will boost your vaping experience to levels that you never knew existed!
5. JUUL Mango Nectar Pods (Pack of 4)
JUUL e-liquid combines chemistry with flavour to bring you the best vaping products. These JUUL Mango Nectar Pods are the latest flavour in their extensive range which combines glycerol, propylene glycol, natural oils, extracts and flavour, nicotine and benzoic acid to deliver a sensational vape formula.
6. Heisenberg By Vampire Vape
Heisenberg e-liquid is a household name in the smoking industry and is consistently popular with vapers everywhere! They sell some of the best strawberry e-liquid UK customers love! This version of their beloved e-liquid will bring to you cool tones of menthol with the fruity zing of mixed red berries. Heisenberg is a high PG e-liquid, which makes it perfect for pod devices.
7. ULTD Salts Puff Bar Disposable Device - Raspberry Twist
The ULTD Salts Puff Bar Disposable Devices are the perfect product for convenience and flavour. The device is pre-filled with raspberry flavoured nicotine e-liquid which is made from the juices of hand-picked raspberries to give it that ultimate punch!
8. Rodeo Menthol Short Fill
Rodeo vape juice is a fan favourite that comes in a variety of zesty flavours, including a lemon twist e-liquid and a blueberry mint e-liquid. The menthol flavour from the range is the perfect, refreshing pick me up that will keep you going throughout the day. Rodeo short fill e-liquids are nicotine-free and ideal for sub-ohm vapers.
9. Gator Vapes Apple Fang Short Fill
Indulge in the succulent flavours of freshly picked apples with this fantastic product from Gator Vapes. This e-liquid has both sweet and sour tones and is guaranteed to excite your taste buds. The e-cigarette juice is manufactured here in the UK and comes in a childproof bottle.
10. Button Junkie Koala Drool Short Fill
Button Junkies Koala Drool vape juice brings the flavours of grape and menthol together to create this breath taking flavour for your vape. Koala drool is perfect for all-day vaping and makes the perfect product for your e-cigarette.
Check out our range of high-quality e-cig products today at Vape Shop.