Best Pod Vape Kits of 2021
Apr 20, 2021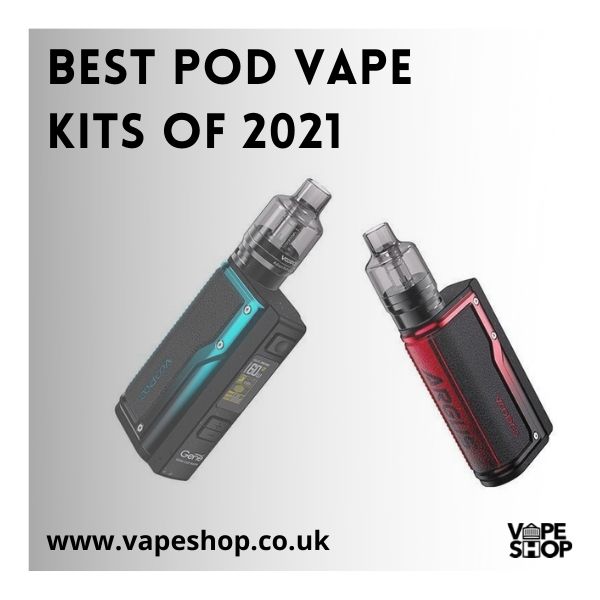 It is widely known that vaping is far safer and healthier than smoking. Vapour is cleaner than smoke and does not linger in your lungs when you inhale it. However, the process of vaping can often seem a little inconvenient. Vape kits can be bulky, which may make it difficult to carry them around or to use them discreetly in public. If you want to vape but don't want the hassle of a bulky kit, pod system vapes may be the best option for you!
Pod vape kits are compact kits that can easily fit into your pocket or bag. The kits come in a variety of colours and styles and make a great on-the-go solution to traditional smoking. There are two types of pod vape kits; closed pod systems, which are pre-filled with 2ml of e-liquid, and refillable pod systems, which are bought empty so can be filled with any e-liquid of your choice.
This article will guide you through the best pod vape kits of 2021. 
1. ICON Pod Vape Kit
2. Aspire Nautilus Prime Pod Vape Kit
3. VooPoo Argus GT Pod Vape Kit
4. Vaporesso Luxe PM40
5. SMOK Nord 2
1. ICON Pod Vape Kit
An elegant and extremely compact device, the ICON Pod Vape Kit is designed for convenience, efficiency and simplicity. The pre-filled pods are quick and easy to attach to your vape, and have an integrated coil and wicking. Once the pod is empty, you simply dispose of it and grab yourself a new one.
With no buttons or fiddly settings, the ICON pod kit provides an easy-to-use alternative to cigarettes. With the ICON Vape Pods available in a range of delicious flavours, you're sure to find something that suits you perfectly. 
2. Aspire Nautilus Prime Pod Vape Kit
The Aspire Nautilus Prime Pod Vape Kit is built with a 2000mAH battery which can last all day when charged to full capacity. This makes it ideal for 9-5 commuters or anyone planning to take their e-cigarettes on a longer trip. The handy pod kit is a refillable vape system that has a 60w maximum vape output and USB charging port.
With a range of vaping styles accommodated thanks to the variable wattage, this fantastic kit caters to vapers of all kinds and experiences. 
3. VooPoo Argus GT Pod Vape Kit
The VooPoo Argus GT Pod Vape Kit is a stylish vape with alloy casting and a leather finish. It is powered by two 18650 batteries, making it powerful and long-lasting for those wanting to use the vape all day. The alloy casting on the vape makes it highly durable and perfect for outdoor use. This is a reliable vaping system that is both stylish and practical.
4. Vaporesso Luxe PM40
The Vaporesso Luxe PM40 provides a versatile vaping experience for vapers of all levels. It is capable of mouth-to-lung and sub-ohm vaping and its power can last all day. The airflow in this impressive pod system vape kit is adjustable, making it perfect for anyone to use. You will find a refillable leak-proof pod, as well as a range of protection filters that make it the ideal vape system for your bag or pocket.
5. SMOK Nord 2
The SMOK Nord 2 has retained all of the best features of the original Nord, and added some fantastic features to make it one of the best kits on the market. SMOK have massively upgraded the power range allowing the new device to be used at anything from 1 to 40 watts. The new wattage range makes it ideal for vapers who want to get larger clouds of vapour. 
This vape kit is perfect for vapers of all experiences and is guaranteed to become a fan favourite.
At Vape Shop, we stock the latest range of vaping systems on the market. Whatever kind of vaping system you need, you're bound to find something to suit your needs from our collection. We have 10 years of experience under our belt and our products are loved by vapers across the country. Browse our range of fantastic products and have a brand new vaping system on your doorstep tomorrow thanks to our next day delivery service.
Share This