Best Vape Pods To Buy In 2021
Sep 17, 2021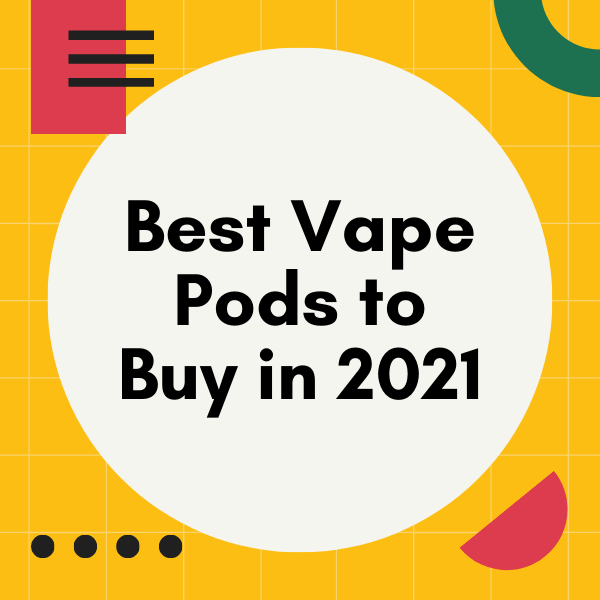 Vaping is growing increasingly popular around the UK with each passing year. As more people see the benefits it offers over smoking normal cigarettes, this is only likely to continue. Of course, you need all the right kit to start vaping first. As well as finding the best e-liquids, this means buying the best vape pods too.
These refillable or pre-filled pods hold the e-liquid you vape with and are a crucial part of any system. There are many to choose from on the market now - but which are the best to purchase in 2021?
Best Vape Pods To Buy In 2021
1. Smok Nord 4 RPM 2ml Replacement Pods
2.Eleaf IORE Lite Replacement Pods
3.VooPoo PnP Pod Tank
4.ICON Aqua Vape Blackcurrant Lemonade Pods
5.JUUL Mango Pods
6.Vuse EPod 2 Pods VPro Very Berry
Coming in a handy pack of 3, these refillable Nord 4 replacement pods from Smok are great value for money. Their user-friendly design also makes it less messy to get vaping again when your e-liquid or coils run out. An ergonomic mouthpiece means better airflow for a top-class vaping experience. These pods are compatible with the very popular Smok Nord 4 vaping kit, which is a stylish and powerful pod vaping unit.
 
These pods are designed to use with the eleaf IORE Lite pod vaping system. This 2 pack of replacement pods give a mouth to lung vaping experience, which is ideal if you like to emulate the sensation of smoking cigarettes. The side filling port makes putting your favourite e-liquid into these pods simple. Salt nicotine e-liquid UK is a particularly good choice for most people.
 
The PnP Pod from VooPoo is a great example of how innovative vaping is. Not only is there a magnetic base for precise positioning but it can be used as a pod and a vape tank. The magnetic design also makes changing coils simple - just pull the old one out, drop the new one in and it will be held securely in place. This pod/tank also has adjustable airflow for better vaping hits. It is best used with the VooPoo Drag S Mod Pod Kit.
 
This 3 pack of tasty, disposable vapes from Icon is a winner. The fruity flavour is great for those who like sweeter vapes and there is also menthol included for a refreshing exhale. Available in either 10mg or 20mg strength, the pre-filled design means swapping your old pod for a new one is very easy. These pods are compatible with the stylish and portable ICON Vape Pod kit.
 
When it comes to the best vape pods to buy in 2021, these mango ones from JUUL deserve a mention. A pre-filled pod, the mango e-liquid inside is fruity, refreshing and tangy. Along with JUUL's temperature regulated vaping tech, this makes for the best vaping experience. If you are looking for the best vape kit to use with these pods, the JUUL starter kit is great value for money and simple to use.
The Vuse ePod 2 device is a popular system with many vapers. Draw activated, it is comfortable to hold and looks top-notch. In addition, it is the only system that can be used with these handy pre-filled pods. The very berry flavour included will certainly get your taste buds tingling and the sour finish is a nice touch. Each pod has 2ml of e-liquid inside, which should give around 200 puffs.
 
Best vape pods in 2021 from Vape Shop
Don't worry if your nearest vape shop is far away, you can order all of the above vape pods online from Vape Shop today. As well as our top choices for 2021, we have a variety of other pods (such as logic vape pods), high vg e-liquids and vaping devices to buy. Browse our website for more information or get in touch at hello@vapeshop.co.uk.