Health Effects of Smoking
Oct 18, 2021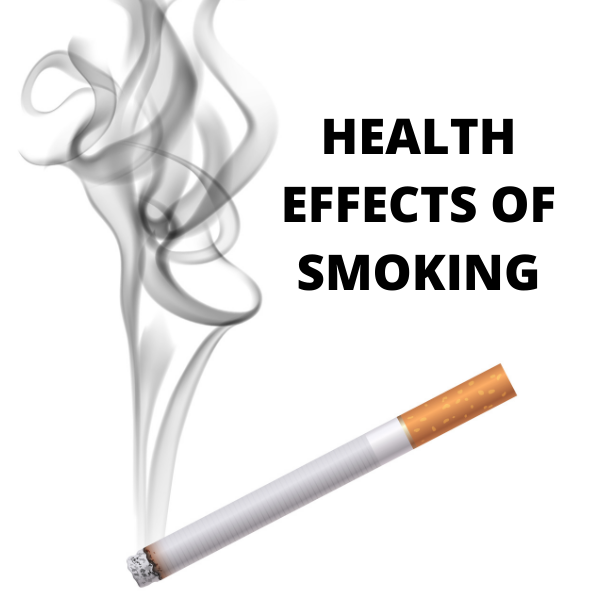 While the severe health risks of cigarettes and other tobacco products are very well-known by now, there are so many other nasty effects that aren't quite as commonly touched on.
Smoking is the most common cause of preventable disease in the UK. Around 78,000 people die on a yearly basis in the UK from smoking-related illnesses. Many more suffer poor health due to their smoking habits.
Today, let's look at the ways smoking harms our bodies and how you can reverse these effects.
List of Health Effects of Smoking
1. Smoking and cancer
2. How smoking affects your breathing
3. How smoking affects your heart and circulation
4. Smoking and your life expectancy
5. How smoking affects your fertility
6. How smoking affects pregnancy
7. Second-hand smoking
8. Smoking and your central nervous system
9. How smoking affects your skin, hair and nails
10. Smoking and the digestive system
1. Smoking and cancer
We'll start with the most obvious health risk associated with smoking that we're sure you're aware of. 
Tobacco smoke houses over 5,000 harmful substances and of these, more than 60 are carcinogenic. Smoking is by far the greatest avoidable risk for developing many types of cancer, and it causes one in four cancer deaths. And if you think rolling tobacco is a slightly healthier alternative to pre-made cigarettes, think again, as they are just as harmful. 
We all know that smoking is the leading cause of lung cancer, but it also increases the risk of at least 14 other types of cancer such as: 
- Throat and Mouth cancer
- Stomach cancer
- Pancreatic cancer
- Kidney Cancer
- Cervical Cancer
- Leukaemia (cancer of the white blood cells)
2. How smoking affects your breathing
Regular inhalation of toxic, chemical-ridden smoke will inevitably damage your lungs and airways after a while. It can become more difficult for you to get oxygen to and from your lungs and you can develop chronic obstructive pulmonary disease (COPD). The majority of people who suffer from COPD are long-term smokers.
The damage to your airways caused by smoking increases the risk of catching an infection like pneumonia. If you suffer from asthma, cigarettes can exacerbate your symptoms severely and make them last longer.
As a smoker, you might feel that your breathing is fine, but your lungs may be damaged before you notice any symptoms.
3. How smoking affects your heart and circulation
Smoking leads to serious issues with your heart and blood circulation. It damages your blood vessels, raises your blood pressure and heart rate, and increases the risk of a blood clot. As a smoker, you increase your risk of developing heart disease and suffering from cardiac arrest. You'll also be at greater risk of having a stroke and developing peripheral arterial disease (The narrowing of the arteries to your legs, restricting your blood flow).
There is no safe amount of cigarettes you can smoke. Just one a day significantly raises the risk of developing heart and circulation problems.
4. Smoking and your life expectancy
On average, smoking cuts your life expectancy by 10 years. Once you're 40 or over, each additional year of smoking reduces your life expectancy by another three months.
While smoking increases your risk of several severe illnesses, most smoking-related deaths are caused by three health conditions. These are lung cancer, chronic obstructive pulmonary disease (COPD) and cardiovascular (heart and circulation) disease.
5. How smoking affects your fertility
Cigarettes can lead to infertility in both men and women. Inhaling second-hand smoke can also hinder your chance of conceiving.
Men who smoke are more likely to have damaged sperm, which are less effective at fertilising an egg. Male smokers are also at a higher risk of suffering from erectile dysfunction.
Female smokers have more difficulty in and take longer getting pregnant than women who have never smoked. Women who smoke may also go through the menopause earlier than non-smokers.
6. How smoking affects pregnancy
Smoking while pregnant can lead to complications with the pregnancy and harm your baby. Smoking reduces the amount of oxygen your baby receives in the womb, and allows toxic chemicals to pass through the placenta to them. Smoking during pregnancy increases the risk of:
- Miscarriage (loss of pregnancy within the first 23 weeks)
- Ectopic pregnancy
- Placental abruption – when the placenta separates from the wall of your womb, potentially deadly for your baby
- Stillbirth (death of a baby before or during delivery)
- Premature birth
- Your baby having a low birth weight, potentially leading to further complications
- Abnormalities of foetal development such as a cleft lip
7. Second-hand smoking
While smoking, anyone nearby will be inhaling the smoke you exhale, and the smoke from the end of your cigarette. This is known as second-hand smoking or passive smoking. While that might not seem like such a big deal, Second-hand smoking may cause the same nasty health problems that active smokers suffer from.
8. Smoking and your central nervous system
As we all already know, Nicotine is the primary ingredient in tobacco. Nicotine reaches your brain in just seconds and gives you a very brief burst of energy. As these subtle effects wear off, you'll start getting tired and craving another cigarette. Nicotine is well-known to be an extremely addictive substance, which is why people find giving up smoking so difficult.
Physical nicotine withdrawals may impair your cognitive functioning and lead to anxiety, irritation, and depression. Withdrawal might also give you headaches and hinder your sleep.
9. How smoking affects your skin, hair and nails
Very visible signs of the effects of smoking are seen in how your skin changes, as the chemical compounds present in cigarette smoke alter the structure of your skin. It was even revealed by a study that smoking drastically increases the risk of skin cancer.
Your fingernails and toenails are also affected by smoking, which increases the chance of fungal nail infections.
Nicotine is also known to affect your hair, potentially accelerating balding and greying.
10. Smoking and the digestive system
Smokers are at greater risk of developing mouth, oesophagus, throat and larynx cancers. Smokers are also at greater risk of pancreatic cancer. Even cigar smokers and those who smoke without inhaling face a higher risk of mouth cancer.
Cigarettes also negatively react with insulin, increasing your risk of developing insulin resistance. That puts you at greater risk of suffering type 2 diabetes and the problems that come with it, which tend to develop at a faster rate compared with a non-smoker.
Smoking vs. Vaping
A sure way to avoid most of these while still getting the nicotine intake you crave is, of course, vaping. We stock a vast selection of starter vape kits , many of which offer a mouth-to-lung function, mimicking the motion and sensation of smoking a cigarette without all the harmful chemical compounds. These devices are a great option for former smokers and new vapers.
We also stock Nicotine-free (0mg) e-liquids for vapers who want to cut out nicotine altogether. Nicotine-free vape juice often comes in the form of either 50ml or 100ml shortfills with space for a nicotine shot.