Top 10 Geek Bar Flavours [Best For 2022]
Dec 20, 2021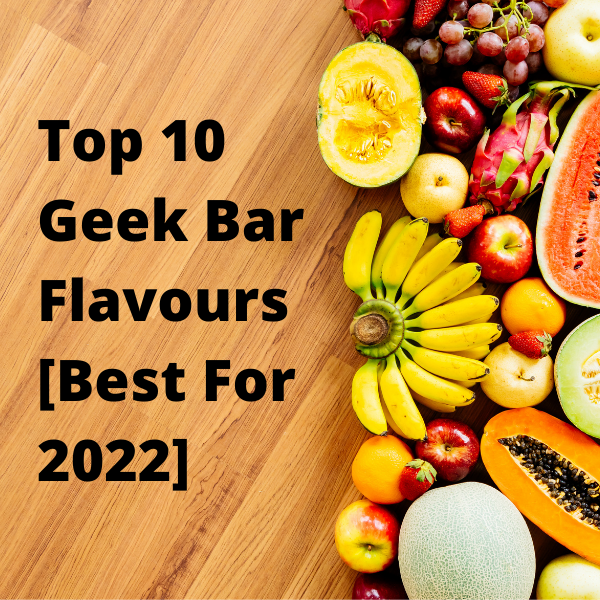 Welcome the new year in correctly with the most popular disposable vapes flavours from one of the hottest vape brands right now in the UK, GeekVape. In 2021, GeekVape took the market by storm with their Geek Bar disposables; from white collars to hippies to your average joe, absolutely everyone was puffing on a Geek Bar. With what seems like a constant release of new flavours, it's clear that GeekVape have no plans of minimizing the current craze around their disposable devices, so here are
10 best geek bar flavours for you to kick-start 2022:
Who doesn't love watermelon? We can guarantee that even if you're in the 1% of people who don't enjoy the fleshy juice of a big, ripe watermelon, you will still thoroughly enjoy this vape. This is because the sudden burst of cold, glacial ice makes all the difference, creating an irreplicable puff.
One word: yum! This vape so effortlessly replicates a scoop of the nation's favourite ice cream flavour. It's pink, it's delicious and brings you back to the better times in life in just one puff. With up to 550 puffs per device, you won't have to sacrifice flavour for longevity with this Geek Bar.
One of the newest flavours amongst our top 10 and already a hit for the new year! With three completely opposite flavours combined all to make one, how could it not be a favourite? You'd think the sweetness of the blueberries and raspberries will lessen the tingle on your tastebuds from the sour component, but not a chance.
As if fresh lemonade wasn't popular enough! Pink lemonade has become a universally admired flavour, so it was no surprise when GeekVape launched the Pink Lemonade Geek Bar disposable. One thing about GeekVape – they're going to keep up with the trends.
Sour isn't for everyone, so maybe the Blueberry Sour Raspberry doesn't float your boat, but that's why there is Blueberry Ice too! The sweetness of the blueberries is followed by a sudden chill which passes through your whole body in just one puff.
Two of the juiciest and most exotic fruits on the earth combined together to give your tastebuds a taste of the tropics. This disposable vape pen will no doubt be a favourite for spring 2022, after all - it may be the closest we get to the islands.
Think of this as a more premium version of a classic flavour… because that's exactly what it is. Sweetened to perfection to ensure you get a fulfilling puff of not just any strawberry, but the most ripe, red, and organic strawberries.
A staff pick for Vape Shop, this vape juice combines just the right amount of banana with ice to create a flavour that isn't sickly or overpowering. This is arguably one of the riskiest combinations of two simple ingredients, but it works extremely well, and we have no doubt that you'll love it just as much as we do!
We can't get enough of the 'just add ice' technique that GeekVape seems to be following right now. Before you try this at home, remember, it's not just the ingredients that make up the e-juice, it's a lot to do with getting that perfect balance of in this case, guava and cool ice to make a to-die-for vape.
Not only will you want to start the year with a Passionfruit Geek Bar, but we bet you will want to carry this right through to the end of 2022 – and we can't blame you! A sweet and tart yet fragrant aroma that we bet you'll just love… It's not called passion for no reason.
Geek Bar FAQs
What is a geek bar?
A geek bar is a pocket-friendly disposable vape device.
How much nicotine is in a geek bar?
Geek bars are pre-filled with 20mg nicotine salt e-liquid.
Are geek bars bad for you?
Geek bars are a safer alternative to smoking as confirmed by Public Health London.
How many puffs in a geek bar?
You will get approximately 550 puffs from a geek bar.
Where to buy geek bar vape in the UK?
At Vape Shop we have a range of geek bars to choose from.
How long do geek bars last?
Geek bars will last approximately 550 puffs which can last 2 - 3 days depending on your vaping pattern.
How much are geek bars?
At Vape Shop, our geek bars range from £4.85-£5.95.
How to recharge a geek bar?
Geek bars do not need to be recharged as they are disposable devices. When they're out of e-liquid or battery life, simply throw them away.
Geek bars flavours?
Flavours range from Blueberry Cotton Candy to Lychee Ice. Our geek bar flavours are limitless at Vape Shop so we can guarantee there is something for everyone.
Share This
1 comment
I love watermelon flavor vapes. But I must say the geekbar watermelon ice is the most horrible I've ever tried. I dont know whether I bought a dodgy one, but it's terrible. No flavor at all, just a nasty taste.
Gape Invader Mar 10, 2022
Leave a comment