Top 5 High-VG E-Liquids 2021
Sep 27, 2021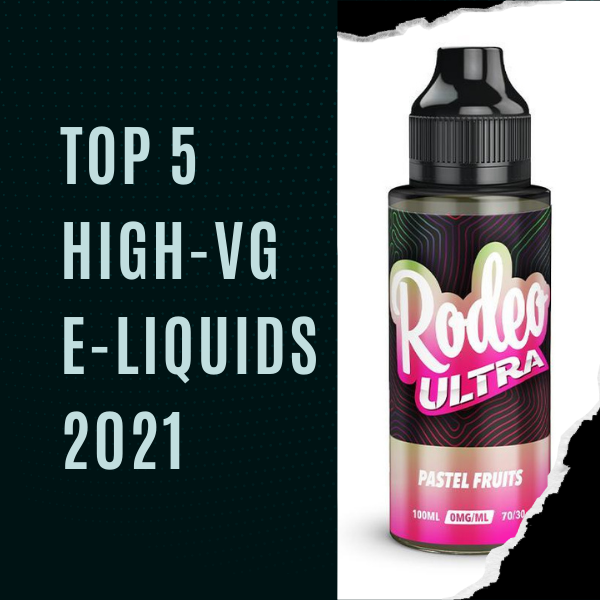 Vegetable Glycerin (VG) is a natural mixing agent that gives vape juice its thick consistency. The amount of VG within an e-liquid controls how much vapour you can produce. It is considered a safe substance for consumption and is used in common foods such as baked goods, grains, cheese and processed vegetables. If you're finding a particular vape juice to be too harsh, then we'd recommend a higher VG vape juice for a smoother throat hit. These e-liquids offer strong flavour with dense clouds, providing an ultra-satisfying vape.
Also known as sub-ohm liquids, these vape juices are ideal for use with sub-ohm vape kits and tanks.
Max VG e-juice typically comes in the form of shortfills, which are bottles containing 50ml or 100ml of vape juice, with 10ml or 20ml of space to add a nicotine shot. To learn more please read our guide to shortfills and nicotine shots.
Today, we're going to look at five of the best High-VG e-liquids you can pick up from Vape Shop online or vape shop near you.
5 Best High-VG E-Liquids 2021
1.Strawberry Shortfill By Rodeo Fifty
2.Pastel Fruits By Rodeo Ultra
3.Gator Vapes Raspberry Riot Short Fill
4.Slushy Hut Blue Slush Short Fill
5.Button Junkie Koala Drool Short Fill
First up, we have Rodeo Fifty's delicious Strawberry Shortfill. This delectable shortfill vape juice perfectly encapsulates the juicy sweetness of ripe, plump strawberries. This e-liquid is perfect for vapers looking for a mouth-wateringly fruity flavour to indulge in. A deliciously sweet strawberry taste is present upon inhale, making for a perfect all-around vape.
The sweet and fruity notes of strawberry provide a deliciously rich flavour experience that you won't be disappointed with. You will feel this breathtaking taste sensation from when you take the first pull.
Another entry from the fantastic Rodeo, but this time from their Ultra range. Pastel Fruits by Rodeo Ultra is a delicious recreation of a classic confectionery treat. This sugar-coated candy flavoured e-liquid will take you back to your childhood with each pull! This flavour is the perfect balance of refreshing fruitiness with just the right amount of sugary sweetness. 
Next up, we have Raspberry Riot Shortfill by Gator Vapes. Packing a seriously fruity kick, the Raspberry Riot e-liquid is packed full of snappy sensations designed to leave an impression that you'll never forget. The rich flavour of the fresh, ripe raspberries provides a sweet and succulent vape juice, perfect for giving your vape that essential berry boost.
Slushy Hut's Blue Slush vape juice is a take on the classic ice-cold blue raspberry slushy flavour, blended with juicy ripe raspberries and flawlessly combined with a crisp and cool taste. Upon inhale you'll notice a sharp blue raspberry taste, producing a sweet and sour fusion, matched with an icy exhale. 
Last but not least, we have Koala Drool Shortfill by Button Junkie. This vape juice boasts a rich grape flavour and a burst of ice cool menthol. The mature flavours of the grapes are expertly swirled into a 50ml bottle to create a deliciously sweet vape liquid with an icy kick.
The tanginess of the grapes is perfect for those who prefer the sweeter things in life and it is complemented by the refreshing menthol burst. Koala Drool is perfect for an all-day vape and the ideal companion for your e-cigarette.
Frequently Asked Questions
What is high VG e-liquid, and why should you use it?
Vegetable Glycerin (VG) is a natural mixing agent that gives vape juice its thick consistency. The amount of VG within an e-liquid controls how much vapour you can produce.
Many vapers prefer max VG e-juice because they don't like vape liquids high in PG. Others are enthusiasts for the thick, robust clouds and smooth inhale that VG offers. Vape liquids with higher VG and lower PG provide a smoother throat hit, which is ideal for direct lung vaping. On the other hand, if you're a mouth-to-lung vapers will typically opt for e-liquids higher on PG.
Which vape devices work best with Max VG juice?
vape juices high in VG are ideal for use with sub-ohm vape kits and tanks. If the atomizer has high airflow, it will be perfect for high VG e-liquid. Max VG e-juice doesn't work as well with low-powered mouth-to-lung devices like vape pods, as the higher viscosity will prevent them from vaporising properly. Max VG e-juice are compatible with resistance coils and more power.
E-juice with maximum VG vs. e-juice with 100% VG
Now the term "100% VG" can be a tad confusing, as they technically do not exist. While you can get pure VG, it is unflavoured.
Even if a vape juice exclusively utilises VG as a base liquid, the majority of flavourings in the vaping industry are PG-based, so PG is never entirely unavoidable.
Having said that, a handful of vape juice manufacturers use alternative flavourings that use a minuscule percentage of ethanol as a base instead. These flavourings allow e-liquids to be completely PG-free. If you're trying to avoid PG, maybe because of an allergy, We recommend that you search for this kind of liquid, as opposed to simply max VG.
Is high VG Juice better?
While this is down to the individual's vaping preferences, high VG vape liquids are undoubtedly a better choice for sub-ohm vapers. Those with allergic reactions to PG will also want to opt for Max VG e-juice.
Share This