A GUIDE TO SHORT FILLS AND NIC SHOTS
WHAT ARE SHORTFILLS?
In May 2017, a new regulation called The Tobacco Products Directive (TPD) came into effect. One of the main changes was to limit nicotine-based E-liquids to a maximum size of 10ml. This birthed a new type of E-liquid; Shortfills. 

We're sure you're aware of what shortfill E-Liquids are by now, but for those who are none the wiser, short fills are larger bottles of Nicotine-free E-liquid with extra space for a nicotine shot at the top. As shortfill bottles do not contain any nicotine, they are fully compliant with TPD regulations.

They are incredibly popular, as they are an excellent way of getting more of your favourite e-liquid in a larger bottle. 
HOW DO SHORTFILL BOTTLES WORK?
Shortfill E-liquids typically come in 30ml, 60ml or 120ml sized bottles and. As their name suggests, they are filled with slightly less e-liquid than the capacity of the bottle, leaving room for a nic shot. A nic shot is what gives the e-liquid its nicotine content and allows you to add any amount you want to cater to your preferences.
DIFFERENT TYPES OF NIC-SHOTS
Nic shots can vary in style, so you must get the right one for you:
50:50 Nic Shots:Perfect for adding to short fills with a 50:50 VG:PG ratio.

Max VG Nic Shots:Great for mixing with high VG short fills (70:30 or 80:20)

Ice Nic Shots:These are nic shots with a refreshing menthol hit added.

Nic Salt Shots:These feature a much smoother throat hit to standard nic shots and are absorbed into the bloodstream faster. They satisfy nicotine cravings quickly and effectively. 
HOW MUCH NICOTINE DO YOU NEED TO ADD TO YOUR SHORTFILLS?
If you're wondering how much nicotine you should add to your shortfill to reach your desired strength, then look no further. This nic shot mixing guide should clear everything up for you and have you all ready to get vaping.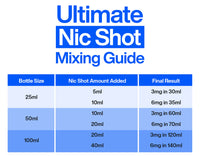 HOW TO ADD NIC SHOTS TO YOUR SHORTFILL
- Step One: Grab your Nic shot and short fill e-liquid and get ready to mix. Remove the tops from the short fill e-liquid bottle and the nicotine shot bottle(s). Then, flip open the cap, revealing a hole for you to pour your nic shot into. Bear in mind that some short fill bottle caps can be quite hard to open and that it might be easier using a tool such as a knife.

- Step Two: Pour the desired amount and strength of nic shot into your short fill e-liquid bottle.

- Step Three: Push the cap of your short fill bottle down to seal it and screw the bottle top back on. Once you've sealed the short fill bottle back up, firmly shake the liquid until it is entirely mixed in with the nic shot.

- Step Four:Allow to steep for about twenty minutes to an hour or so (48 hours max). Steeping is the process of leaving the e-liquid to age and develop a stronger flavour.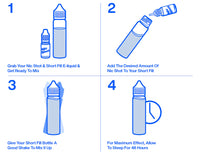 So, hopefully, that's cleared up what you wanted to know about nic shots and shortfills. Browse our short fills collection now and grab some bottles to start mixing, and while you're here, you might as well take a look at our selection of nic shots below too.