What Are The Best E-liquid Flavours To Vape In 2021?
Jun 7, 2021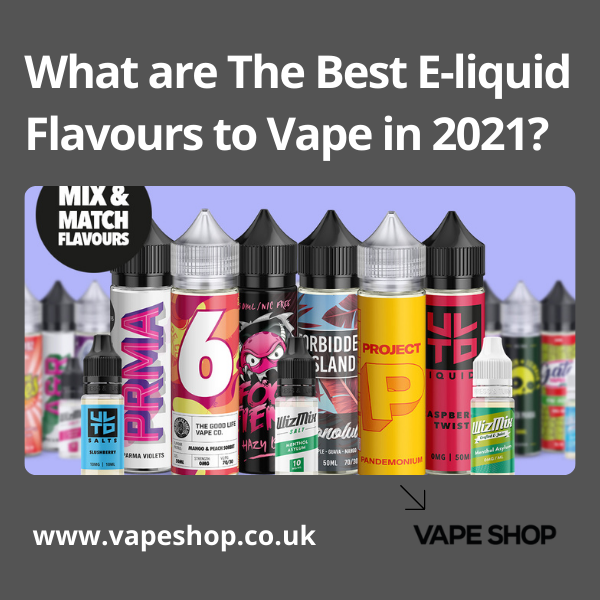 To get the most from vaping in 2021, finding the best tasting e-liquid flavours is vital. This can sometimes seem like a never-ending journey as there is a plethora of selection out there. From fruity juices to tangy tastes, unique mixtures and beyond, you will never be short of new flavours to try out. Although it is fun finding the best e-juices to vape, sometimes we just want things to be simple and straightforward.
To help, we have rounded up some of the best e-liquid flavours for 2021.
One of the most popular manufacturers of e-cigarette liquid is Vampire Vape. Heisenberg is arguably the flagship liquid in their range and packs in plenty of punchy flavours. Mixing juicy red berries with a menthol kick, it starts off sweet before leaving you with a refreshing ice-cool top note. This classic combo makes it a flavour most people will love and one that is perfect for all-day vaping. This is available in a range of strengths from 0mg to 18mg.
It is not easy to find a tobacco flavoured e-liquid for all-day use, but Wizmix's Popular Vape hits the spot. This means you get a great tasting e-juice that gives all the tobacco flavour you need but without any harmful stuff found in cigarettes. The woody, earthy taste gives it a real depth and a distinctive finish. Made in the UK, it has a VG:PG ratio of 50:50 plus a childproof bottle for extra safety.
The bright, eye-catching bottle this Rodeo vape juice comes in really sets out how fun it is. If you want the best strawberry e-liquid that's a favourite with UK vapers, this is perfect. The fruity notes combine with a rich, creamy finish to give your taste buds a real treat. This e-juice contains no nicotine and comes in a large 120ml bottle with 100ml of the liquid inside (the spare 20ml is for you to add a nicotine shot). The 70:30 VG/PG ratio is also great for sub-ohm vapers or those who like to produce large clouds when vaping.
Although the name promises a lot, rest assured this e-liquid delivers! Once you take a hit, you really do feel like there is a riot of fruity raspberry flavours on your tongue. To offset the delicious sweetness, this juice finishes with a refreshing menthol kick. The end result is arguably the best menthol e-liquid which you will not forget in a hurry. Gator Vapes is well-known for being one of the best e-liquid brands and producing top quality products - this flavour is no exception.
We have done earthy liquids and rattled through some sweet ones - but have you ever thought about a taste bud tingling lemon twist e-liquid? This zesty flavour comes packed with sharp-tasting lemons and limes for a real punch. Don't worry though - it is all perfectly balanced to taste great while still giving an invigorating feel. In addition, the Nic Salt design sees it absorbed into your blood for faster results. Nic Salt liquids also give a pleasingly smooth hit and are great for vaping day in, day out.
Order great tasting e-liquid from Vape Shop
The above flavours are definitely some of the best to try out in 2021 for vapers. Whether you like sour, sweet or classic tobacco, there is an e-juice for you in there somewhere. At Vape Shop, we have all of these flavours in stock to buy plus a wide selection of other top-class e-liquids (such as nicotine e-liquid and blueberry mint e-liquid). Order online today or contact hello@vapeshop.co.uk for more help.
Share This