7 Spooky Vape Juices For Halloween 2021
Oct 28, 2021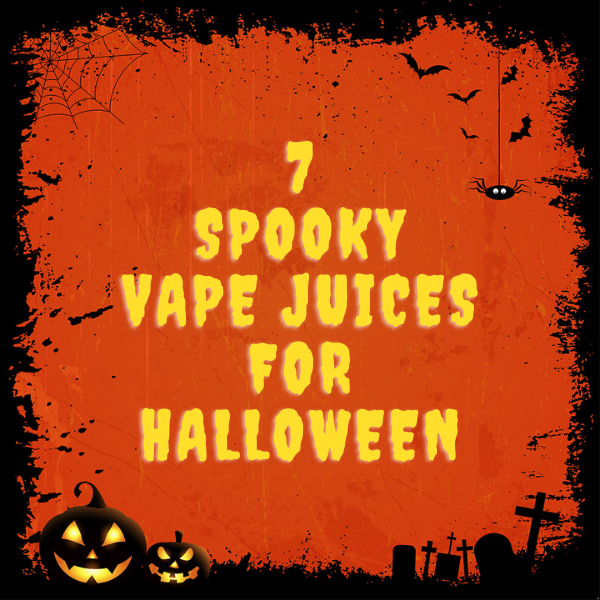 Get ready to enjoy some spooky themed e-liquids from a variety of different ranges that we have here at Vape Shop . From scary e-liquid flavours to sweet treats, we have a huge variety of different vape juices that will appeal to a huge selection of vapers. 
7 Spooky Vape Juices for Halloween
1. Blood Sukka by Vampire Vape
2. Bubble Gun by Riot Squad
3. Dark Horse by WizMix
4. Blood Berry by Nasty Juice
5. Crystal Mist by Double Drip
6. Apple in Chains by Rock Salts
7.Wild Watermelon by Road Trip
One of the most frightening thoughts of Halloween is being bitten by a Vampire. Blood Sukka from Vampire Vape is a delicious vape juice that has a combination of red berries and rich cherry is balanced out by a cool eucalyptus and bold aniseed for a complex e-liquid. This fruity e-liquid is the perfect choice for both vampires or those who have not been turned yet.
When you vape Bubble Gun from the Riot Squad range, it feels as if time stands still. As you enjoy the sweet candy flavoured e-liquid, you are instantly transported back to your childhood, playing with friends and chewing on some of the best bubblegum that you have ever had that you bagged from trick or treating.
High on the horizon you can see a shadowy figure of the headless horseman's mount. This Dark Horse e-liquid is a blend of earthy tobacco from the WizMix range, which has full-bodied notes of the tobacco consistent throughout the vape, giving you a distinctive and hearty vaping experience. This vape juice, though being called Dark Horse, is at the forefront of a delicious line up of tobacco flavours that are created by WizMix.
Bursting with the sweet succulent flavour combination of sweet and sour lemonade, ripe raspberries and a touch of mint for a balanced vape. Blood Berry from the Nasty Juice range of vape juices is a flavour that even a vampire would enjoy sinking their teeth into.
Enjoy the cool flavour of crystal mist from the Double Drip e-liquid range. The flavoursome foggy clouds that this vape juice creates are reminiscent of a cold October morning with the haze floating eerily and silently. If you enjoy vaping a chiling menthol flavoured e-liquid then this is a must.
Apple in Chains is a 10ml e-liquid that is from the Rock Salts range of e-liquids and features the fresh flavour of green apple. The apples have been kept under lock and key to ensure they are cultivated to produce the exact juicy flavour that is required to be included within this impressive vape juice. 
You find yourself all alone in a spooky forest with the shrieking call of crows all around, but have no idea how you got there. You notice a large cave and slowly wander over to see a large hairy figure inside.You've found Bigfoot! What you weren't expecting was for him to smell like delicious watermelon. You look to the side and spot Wild Watermelon by Road Trip. The mouth-watering flavours will dance across your taste buds, leaving you wanting more.