Top 10 Nicotine Salt Vape Juices 2021
Sep 20, 2021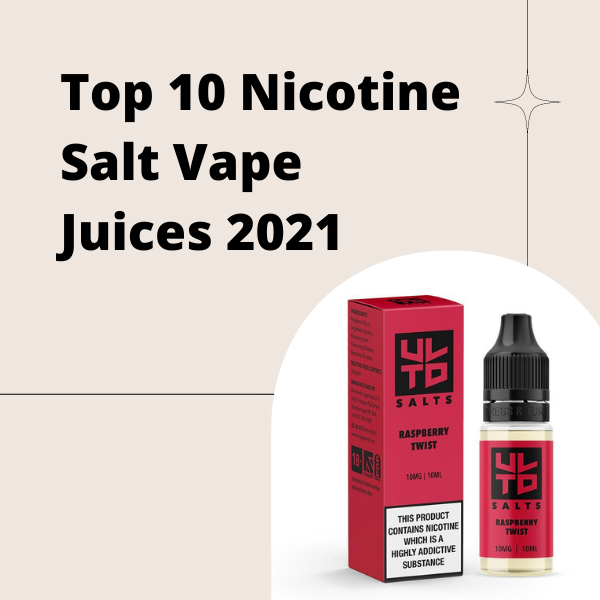 As a relatively seasoned vaper, you've probably come across the term 'Nic salts' or 'Nicotine salts' fairly often by now. But what exactly are they? 
Nic Salts (Nicotine salts) are a naturally occurring blend, extracted directly from the tobacco leaf. Nic salt-based vape liquids are absorbed into your system much faster than standard freebase nicotine e-juice, giving you a much quicker kick and helping to stave off your nicotine cravings. They also provide a smoother overall vape, without the harshness associated with traditional high nicotine strength e-liquids. 
Today, let's have a look at some of the best nic salts you can pick up from Vape Shop online now. 
To learn more about nic salts, please read our Nicotine strength guide. 
Here are Top 10 Nicotine Salt Vape Juices 2021:
1. ULTD Raspberry Twist Nic Salt
2. Heisenberg Nic Salt By Vampire Vape
3. Wizmix Salt Caramel Tobacco
4. Cherry Fizzle Hybrid Salt By Riot Squad
5. Bomb Bonz Blue Raspberry Bon Bons Nic Salt
6. Forbidden Island Honolulu Hybrid Nic Salt
7. Just Juice Berry Burst Nic Salt
8. Lemon Tart Nic Salt By Dinner Lady
9. Pinkman Nic Salt By Vampire Vape
10. Doozy Vape Co. - Vanilla Custard Nic Salt
First up, we have ULTD's Raspberry Twist Nic Salt, a deliciously fruity e-liquid with an exquisite aftertaste. The rich flavours of the hand-picked raspberries provide a sweet yet subtle nic salt vape juice, perfect for giving your vape that much-needed berry boost.
As you vape, you'll experience a delightful burst of fruity flavour that lingers until the end, giving you a smooth and flavoursome finish. Raspberry Twist is the ideal all-day-vape and an excellent accompaniment to your vape kit.
Next, we have Vampire Vape's increasingly popular nic salt vape juice: Heisenberg. This remarkable e-liquid boasts the fruity sensations of mixed red berries topped off with a cooling, refreshing menthol hit. Savour the burst of flavour from the red berries before the ice-cold menthol breeze provides you with the perfect aftertaste. Heisenberg is an excellently balanced e-liquid and is perfect for all-day vaping. This nic salt vape juice is perfect for use with pod vape kits.
This is one for those with a sweet tooth and former smokers alike. Caramel Tobacco is a sweet tobacco flavour nic salt vape juice that's ideal for someone who vapes but still wants to preserve the earthy tobacco flavour. WizMix added a twist by formulating the nic salts to provide maximum strength and satisfaction.
Cherry Fizzle is Riot Squad's delicious, tongue tantalising e-liquid. Cherry Fizzle embraces the flavours of deliciously chewy cherry laces packed full of fruity delight with a tempting, fizzy sugar coating. This vape juice gives vapers a new, unique twist on a classic confectionery flavour, making it perfect for those who love the sweeter things in life. Cherry Fizzle has a 50/50 VG/PG ratio, making it perfect for MTL vapers. We recommend using this e-liquid in a pod device. 
Bomb Bonz has taken their four almighty sweet flavours and has formulated Bomb Bonz Salt, with Blue Raspberry Bon Bons being a favourite of ours! Available in 10ml bottles containing either 10mg/ml or 20mg/ml of nic salt vape juice, this delectable e-liquid offers a satisfying hit of super fresh ripe blue raspberries richly sprinkled with sweet sugar. Bomb Bonz created this combination to provide the perfect mix of flavour and vapour. Blue Raspberry Bon Bons consists of a 40%VG and 60%PG ratio to provide you with a satisfying throat hit and the best tasting experience possible.
Embrace the tropical flavours of Hawaii with Forbidden Island's Honolulu Nic Salt vape juice. The fresh pineapple, lush guava and irresistible mango flavours blend together perfectly to provide a sweet and tangy kick upon inhale. The initial full-flavoured rush of the guava and pineapple is beautifully complemented by an exquisite mango aftertaste that lingers until you put down your vape.
Bursting with the juicy and luscious flavours of wild summer berries, Berry Burst Nic Salt by Just Juice is an exquisitely fruity vaping experience. The succulent and sweet mixture of strawberries, blackberries and blueberries provide a mouth-watering vapour with an alluring aftertaste. Soak your taste buds in an intense berry flavour with Berry Burst.
A well-loved dessert flavour enjoyed in the UK, Dinner Lady's Lemon Tart combines sweet lemon curd with rich and creamy meringue, all mixed with buttery pastry. Encompassing the flavours of the old British Classic, this rich and zesty vape juice finds the perfect balance between sweet and buttery.
Another entry from Vampire Vape, because what would Heisenberg be without Pinkman? This sweet flavoured vape juice is bursting with delicious flavours of mixed fruit. Pinkman boasts a refreshing yet intense flavour and leaves an alluring aftertaste in your mouth.
Last but not least, we have Vanilla Custard from Doozy Vape Co. This dessert-inspired liquid is more than meets the eye. The creamy custard base is enhanced by sweet floral tones of vanilla, then topped off with rich lashings of golden syrup. Vanilla Custard makes for a tempting treat any time of the day.
Share This